When I first made your acquaintance, it was a time of monumental change in Alberta: the legendary statesman Peter Lougheed was wrapping up his 14-year reign as premier, while Ralph Klein, Calgary's everyman mayor, was waiting in the wings to eventually take his place. You were perfectly positioned as a University of Calgary professor, with a speciality in politics and current affairs, to lead the next generation of learners.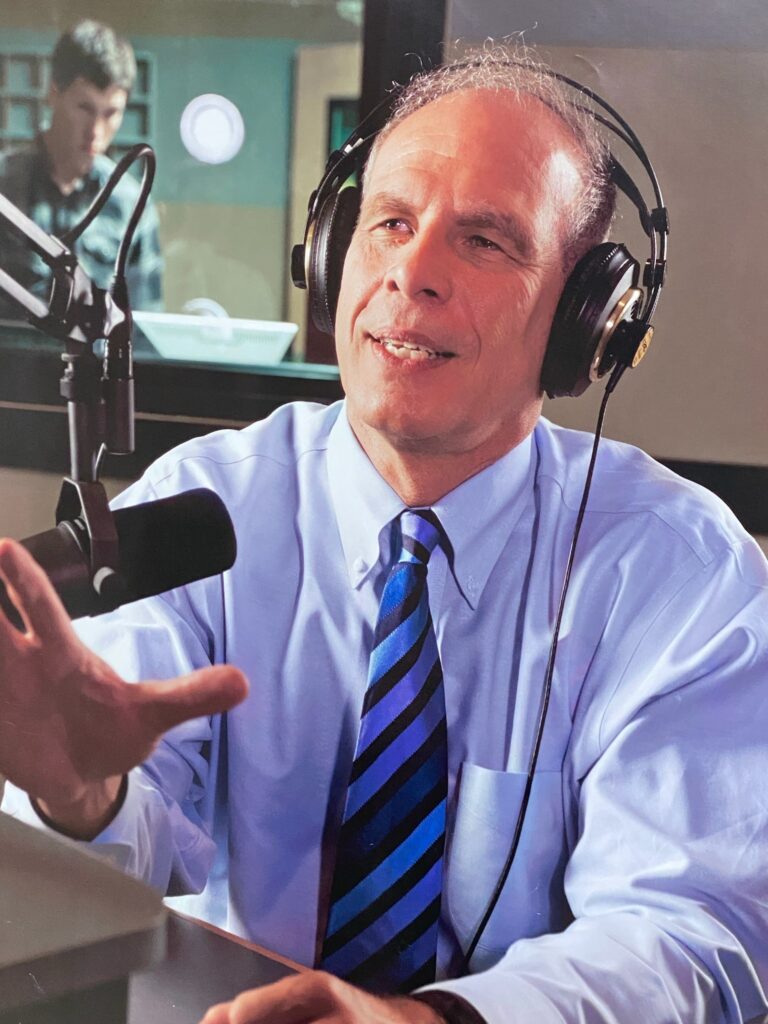 And what a leader you were. Only weeks before your death from cancer on June 9, 2022, just two days after your 72nd birthday, you told Sally Haney, MRU's chair of Journalism and Digital Media, and Broadcast Media Studies Program: "I just love the classroom. I love the challenges of the classroom, I love people … I love reaching out and, most of all, I loved being able to lift those who didn't seem to have a future …"
I was one of those lost student souls back in the late 1980s, when I so luckily stumbled into your Canadian Studies class at UCalgary. I hadn't yet heard what a stellar educator you were, one who, by the time he left for MRU more than two decades later, would amass five Students' Union Awards for Teaching Excellence, the cherry on top being your induction into the Teaching Excellence Awards Hall of Fame in 2011.
I only knew that, after receiving my bachelor's degree in psychology a year earlier, I had no clue what I wanted to do with my life, and no idea of what I had to offer the world. Entering your classroom was nothing short of a revelation of life's possibilities: often flashing the most winning of smiles, you weaved stories of the past into the present day, in such an eloquent and entertaining style that we could all clearly see its relevance for our future. You were such an entertaining orator that I would joke to my fellow students I wish I had brought a big bowl of popcorn to class.
Outside of the classroom, you always had time for me and other students, whether it was to offer an exuberantly friendly hello in the hallway or to take time to sit down and listen to our questions and concerns. You were the first educator to suggest to me that, if I was at all interested in one day becoming a journalist, to simply go to the U of C students' newspaper and volunteer my services. You were so humble, caring and approachable, that it was easy to forget you were a leading expert in Canadian media policy, a distinguished scholar who'd go on to write and edit 21 books and be called upon by several levels of government to help shape policy.
You also told Sally Haney in that last interview that you saw yourself as a "cheerleader" for your students. This student, who took your sage advice more than 30 years ago and is now retired from a rewarding career as a journalist at the Calgary Herald, can heartily attest that you were the best cheerleader of all. 
As my former and much-admired Herald colleague Don Braid, a close friend of yours, put it, your immediate instinct always was to help in "a humble, selfless way that is sorely needed in our times." Your legacy will live on across the country through your writings, and in the hearts and minds of those of us who had the good fortune to have benefitted from your kindness, concern, and unparalleled ability to excite and inspire generations of students. Your passion had the power to change many lives, including this most grateful former student. 
With gratitude,
Valerie Fortney, BA'86