Written by Nicola Johnson
It started 61 years ago when three arts patrons formed the International Centre for Modern and Ancient Tapestry in Lausanne, Switzerland. What seemed like a modest act at the time went on to significantly impact artists and art-making for years to come — and its influence reached unexpected places, including the Canadian Prairies.
Between 1962 and 1995, the Centre hosted 16 Lausanne International Tapestry Biennials. Those created opportunities for artists to experiment, compare creative ideas and launch international careers. The artists expanded the Biennials' sphere of influence through teaching, in places like Warsaw and Łódź in Poland, as well as Banff and Calgary.
The Banff Centre for Arts and Creativity and the Alberta University of the Arts (then called Alberta College of Art) had several notable weaving instructors and artists-in-residence during this period. Many were influenced directly or indirectly by the Lausanne Biennials and some, like Mariette Rousseau-Vermette and Inese Birstins, had exhibited in Lausanne.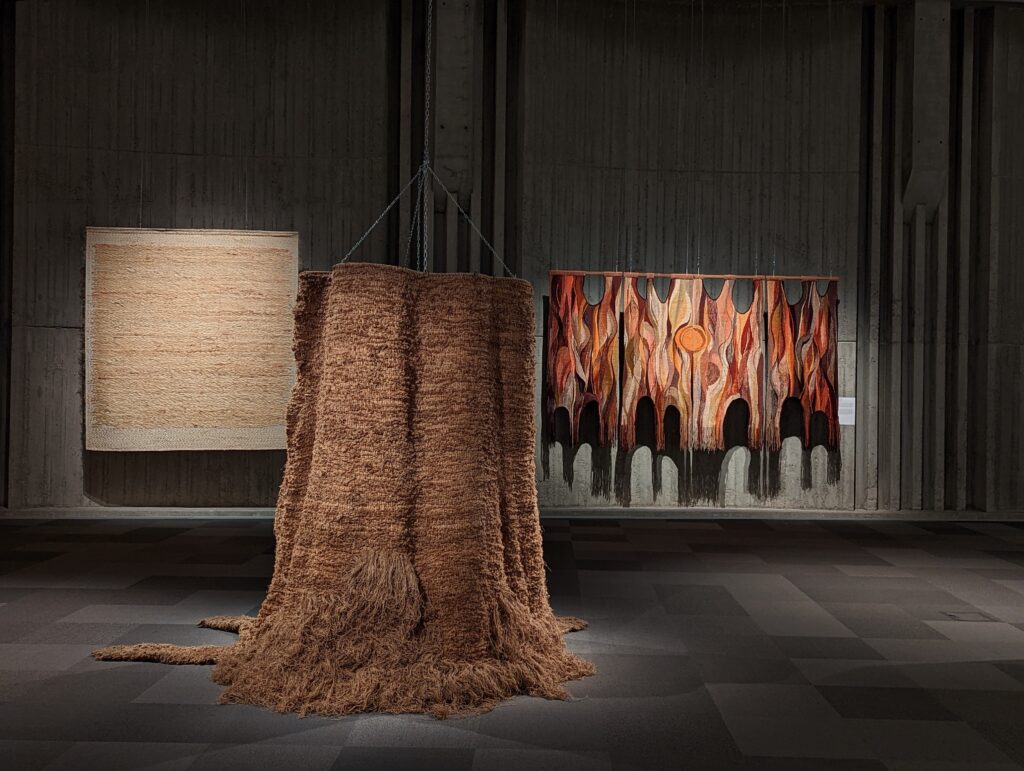 The artistic legacy of this time and place is the focus of the University of Calgary Nickle Galleries' latest exhibition, Prairie Interlace: Weaving, Modernisms and the Expanded Frame, 1960-2000.
Sun Ascending by Saskatoon-based textile artist Kaija Sanelma Harris (who passed away in August 2022) was the inspiration for the exhibit). It is a massive, woven piece consisting of 24 panels that evokes the soft colours of an Alberta sky at dusk. The piece stirred something in Timothy Long who is the curator at the MacKenzie Art Gallery of Regina. He connected with Nickle curator Dr. Michele Hardy, PhD, and independent curator Dr. Julia Krueger, PhD. Together, they developed a travelling exhibition that showcases some of the most innovative and provocative weaving made on the Canadian Prairies.
"Many of the exhibition's 48 artists emigrated from countries like Poland, Finland and Latvia that have a long and deep history of weaving and fibre," says Long. "The Prairies were enriched by them." And they, in turn, were enriched by the Prairies. The influence of the landscape, its endless horizon, vast expanse, and formidable swaths of yellow and green is evident in several of the exhibition's pieces.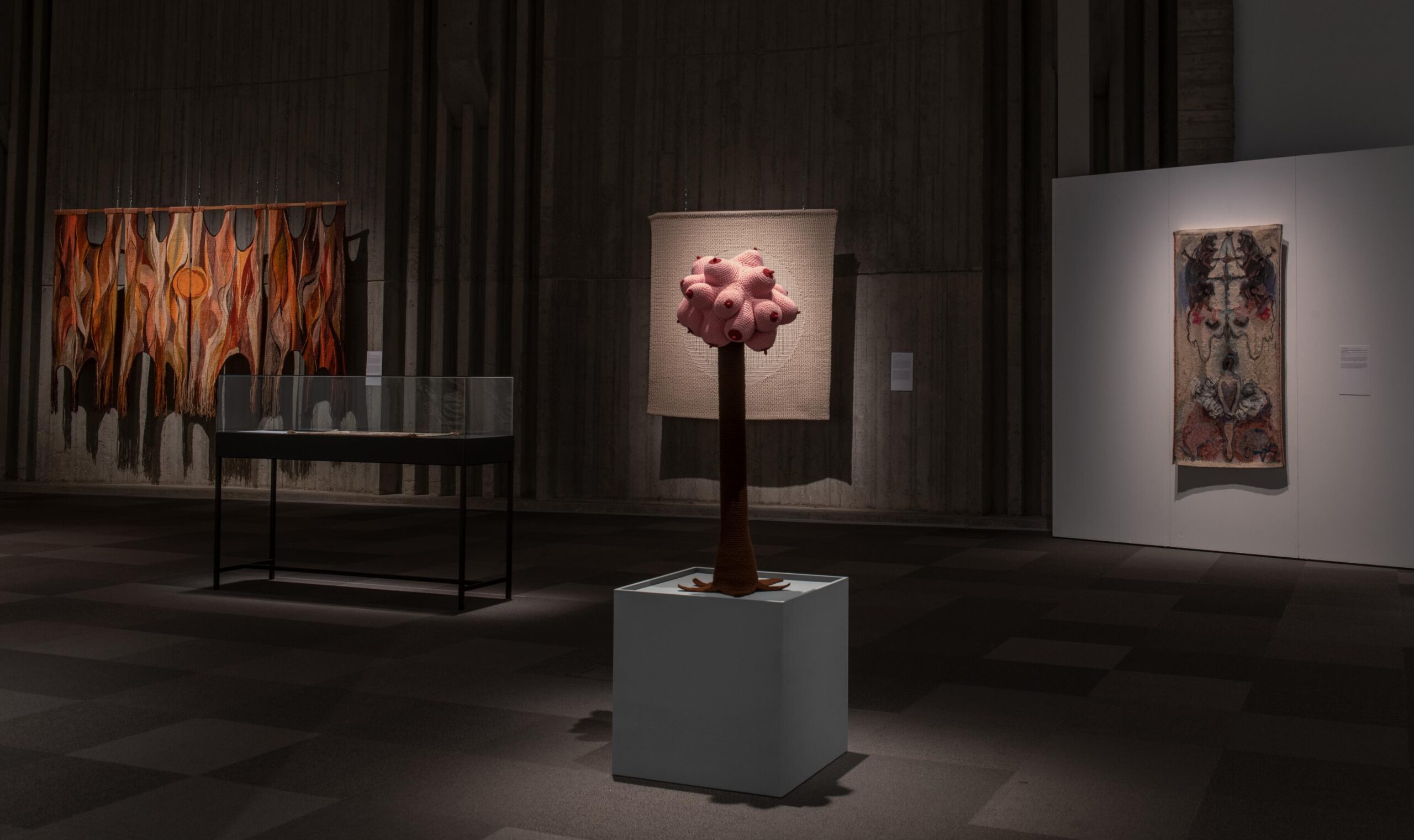 The curatorial team selected works with an experimental nature or feminist bent. The artists represented moved away from traditional approaches to weaving to create something new.
After years of honing her craft, creating perfect selvedges and intricate, woven patterns, Hazel Schwass (1926-2011) began to experiment with unspun yarns, new and different materials, slits and fringes. Susan Barton-Tait experimented with freeform weaving and incorporated dog hair. Ilse Anysas-Šalkauskas used recycled leather scraps. The Northern Cree artist Anne Ratt (who passed away in the 1970s) and Marge Yuzicappi of Standing Buffalo Dakota Nation translated traditional techniques and motifs to new purposes and potential audiences.
Phyllis Green managed both experimentation and feminist response in her piece, Boob Tree. It is, as the name suggests, a tree with a cluster of feminine pink orbs, made even more unique because it is crocheted. "Weaving, crochet and macrame — because of their association with women, with bodies, home and domestic labour — are potent tools to critique an art system that has traditionally devalued them," says Hardy.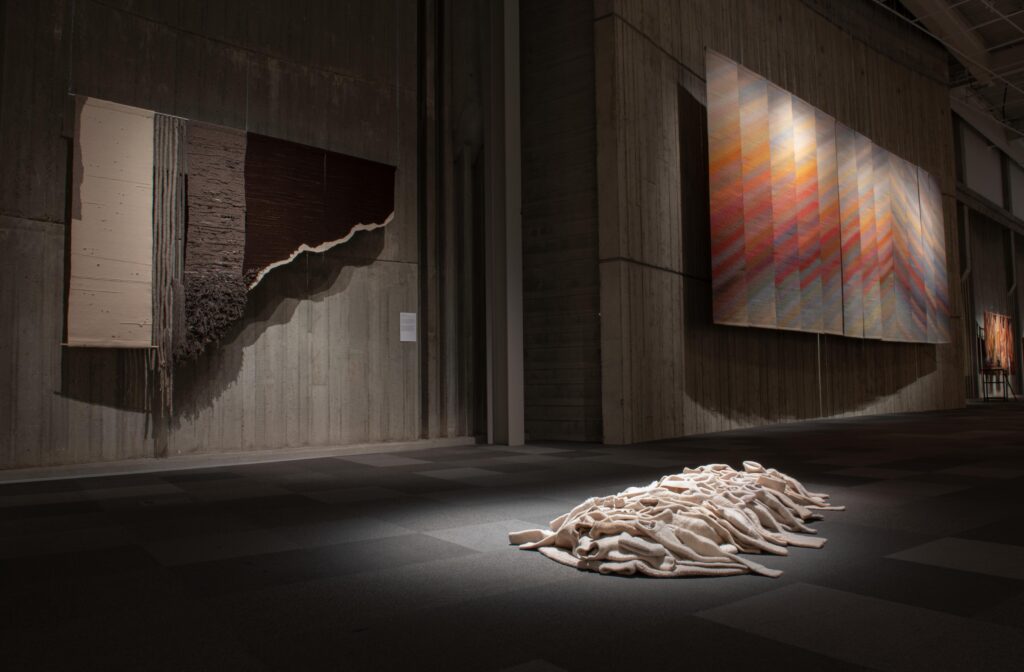 Katharine Dickerson channelled her artistic experimentation and political expression into creating a tree. Dickerson's life-size West Coast Tree Stump is an artistic statement about deforestation, inspired by Coast Salish techniques. Dickerson used different materials in her weaving to mimic the texture of a cedar tree.
While most of the exhibition's pieces hang from walls, Aganetha Dyck's Close Knit is arranged on the floor in a pool of light. Like a lot of women living on the Canadian Prairies during the 1960s and '70s, Dyck was a farm wife with a creative, inventive bent. She created with whatever she could find, including crocheting a pig family from copper wire. Dyck accidentally put a sweater in the dryer once and was fascinated with the felted result. Close Knit is, of course, more than a pile of sweaters on the ground; it embodies the stories Dyck heard from her grandmother about fleeing Ukraine, and how they huddled together to survive the ordeal.
Though the artists represented in Prairie Interlace are not all female, the vast majority are. The works, and the stories behind them, show the expansion of an art form during a specific time. They also show female fortitude of challenging assumptions and claiming space.
Prairie Interlace: Weaving, Modernisms and the Expanded Frame, 1960-2000, is on display at Nickle Galleries until Saturday, Dec. 17. For more information, visit nickle.ucalgary.ca.
EXTRA CREDIT
Hear from the artists. A series of video conversations with artists featured in Prairie Interlace is available on YouTube. The conversations are less than 20 minutes each and collected into a playlist by Nickle Galleries.