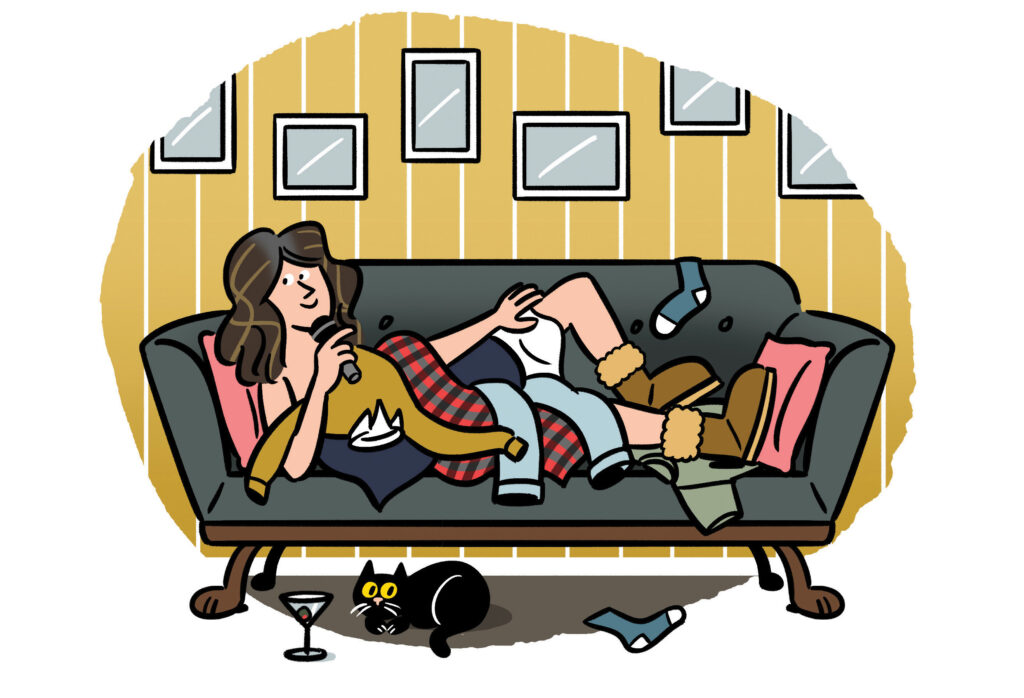 Written by Rebecca Northan, BFA'96
In 1996, when my mother was diagnosed with cancer and given eight weeks to live, our death-related comedic exchanges were not for the faint of heart. I promised that, if she dared to leave me her treasured collection of 1,200 pieces of purple glass, I would most definitely plan a Greek wedding. Mom promised to haunt me.
You may be familiar with the late, great comedian Steve Allen's classic formula: "tragedy plus time equals comedy." My mom taught me that, rather, tragedy divided by comedy equals sanity — an algorithm I believe I may have just invented, but don't quote me on it.
Admittedly naive in the early days of the pandemic last March, I was convinced it would blow over quickly. I made a big fat bet with a director colleague that COVID-19 would be in our rear-view mirror by May — he said it would last at least a year. I accused him of being a pessimist; he countered with something about epidemiology and scientists. Likely, I rolled my eyes. (For the record, I worship at the altar of science, but I am plagued with a competitive and contrary nature.) We agreed that the loser would pay for a very expensive dinner. We shook on it.
My good friends almost immediately started doing improv shows online. Improvisers are a particularly resilient and resourceful bunch: the world shut down on a Wednesday; I had friends in Austin, Texas, who did their first Zoom performance that Friday. I tried to participate, but found the notion too depressing: live performance is all about being in a room together, shoulder to shoulder, so the laughs can travel. We call it a "warm room." Anything online felt cold to me and, afterward, I would find myself feeling lonelier than when I started. I lost 14 months of work in the first two weeks of lockdown. I started meeting the neighbours in the middle of the street, in the middle of the day, no shoes, no socks, cocktails in hand — yes, cocktails, plural.
I read the results of a public survey that claimed "performing artist" was the No. 1 most non-essential job on the planet, possibly in the universe. In a last-ditch effort at pragmatism, I immediately took an online government survey to find out what other jobs I might be suited for: my top result was "actor," which I still cannot believe is a suggestion on a government survey — it seems irresponsible. 
By April 2020, I had stopped folding my laundry. I would get undressed in front of the washing machine, then walk nude to the living room to dress out of the mountain of clean laundry on the couch. I didn't bother to close the drapes (once a performer, always a performer). Every two weeks, I would grocery-shop (not online) in my pyjamas. The neighbour across the street, who had not spoken to us since we moved in three years earlier, started talking our ears off while waiting for her biweekly porch delivery of cotton candy. When not sitting in a chair staring into the middle distance, I cried a lot. 
Sitting still is not something I'm good at so, towards the end of May last year, I launched a project called "Sidewalk Scenes," whereby patrons can go online to book a curbside performance of live music, a kid's show or improv comedy. I pulled out my old Doc Martens — the fashionable improvisor's footwear of choice in the early '90s — and marvelled that I was making a return to street performing at 48 years old. I found a growing acceptance that my impending sense of doom and periodic hot flashes had more to do with perimenopause than the likelihood that I had developed psychic abilities or contracted COVID.
And I made jokes. All kinds of jokes. Silly jokes. Immature jokes. Inappropriate jokes. Jokes infused with gallows humour and desperation. None bear repeating. Most you had to be there for. Many are utterly unmemorable, save for the resulting shared laughter.
The laughs we find in the middle of a tragedy are the ones we reach for as an act of survival. For the love of all that is sacred, may we find at least a few things to laugh at so we don't completely come apart at the seams. In my view, if we can follow the tenuous thread of a tiny laugh, we can usually manage to hold on to some scrap of sanity. Tragedy divided by comedy ensures we don't sit in it for too long — humour invites us to come up for air. 
Enter the "non-essential" performing artist. Our job is to reframe things to provide a bit of distance from which to see ourselves, and you, as utterly human: "Remember when we all stopped wearing pants?"
A woman who booked one of my curbside comedy shows sent a note that read: "When we booked you, we thought we were doing you a favour, but it turns out you did us the favour — laughing with the neighbours from our respective porches brought us together as a community."
Without a doubt, the best laughs are the ones that unite us in mutuality. We call those "warm laughs," and they travel faster than any other. They make us feel less alone. They don't come from punching down, and they tend to be accompanied by vigorous head nodding and sparks of recognition — "Oh my god, that's me!" 
Underneath those warm laughs, gleaming at their very centre, is a nugget of truth and vulnerability, floating on a sigh of, "Aren't we just so…human? Aww. Bless our wee cotton socks — and forgive us." 
If there is ever a way, in the middle of an ongoing tragedy, that I'm able to offer that kind of a laugh, well, I suppose I am quite happy being non-essential.