---
Written by Michael Platt
There's the cushioned nook in the waiting area that is cozy, round and just right for a person looking to tuck themselves away, safe from the outside world. There are splashes of colour — lime green, blue and purple — along with bright windows, glass walls and high ceilings to provide natural light and a welcoming warmth. Add in round-bottomed rocking stools for those who can't comfortably sit still, and pedal-powered video games for those needing to burn away excess energy and boredom, and you have an atmosphere that's quite the opposite of clinical sterility.
Everywhere you look in The Summit, there's evidence of youth taking care of other young people.
At The Summit: Marian & Jim Sinneave Centre for Youth Resilience, located in Hounsfield Heights in northwest Calgary, young people arriving to seek help with mental strife will experience something a lot closer to a walk-in clinic, where assessment and reassurance is available for anyone under 18, or for their family members. No referral is needed to speak with a counselor.
But, unlike a walk-in clinic, The Summit is designed to make even the wait to see a mental health professional as caring as possible, which is why there are nooks to offer comfort and video games to focus energy and minds, in a setting that is warm and nurturing.
It makes sense, given how so many of The Summit's design cues came from youth who are veterans of the system, and who are keenly aware of the struggles faced by one in four young Albertans. That 25 per cent figure comes from a report — Measuring Patient-Oriented Outcomes in Children and Youth with Mental Health Concerns — released in April 2023 by UCalgary's School of Public Policy, which shows demand for youth mental health support has steadily increased over the past decade.
Anxiety is a major challenge faced by young Albertans, which is something Palak Patel learned through personal experience.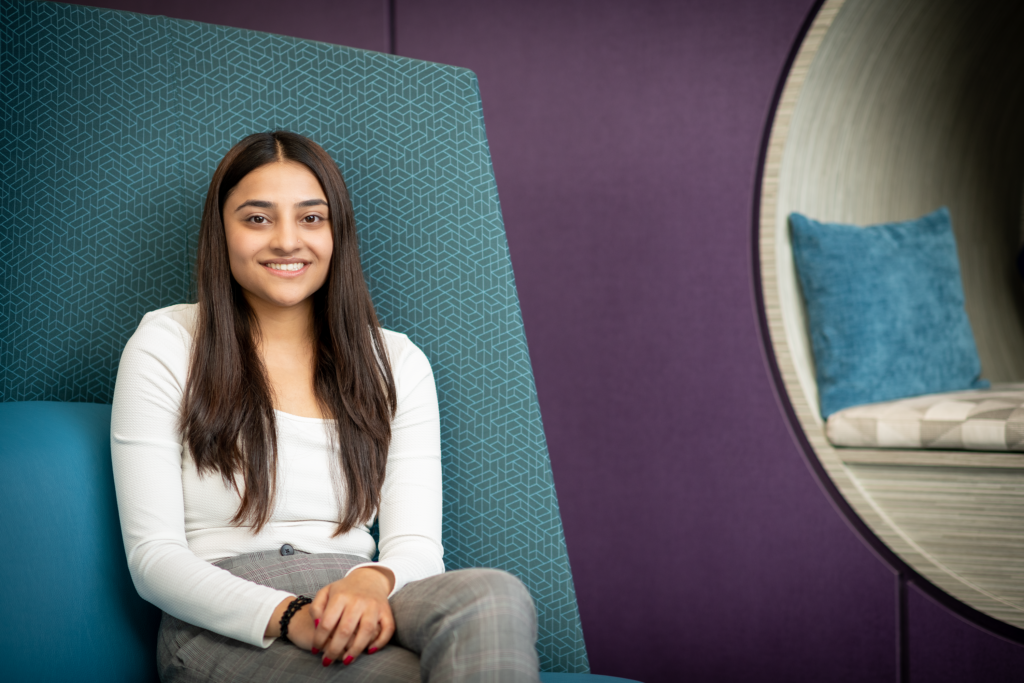 And that's how Patel, upon entering elementary school, found herself in need of mental health support to overcome her anxiety and fear of sounding different. It's also why the 23-year-old UCalgary kinesiology graduate joined the Alberta Health Services (AHS) Youth Advisory Council, and has now joined the Mental Health Research 4 Kids (MHR4K) Youth Advisory Council to support mental health research at The Summit.
The AHS Youth Advisory Council was commissioned to ensure The Summit provided the kind of environment young people would see as welcoming and as far from cold and clinical as possible.
"Individuals came together to provide perspectives on their own lived experiences," says Patel. "That's really where I started to advocate for various mental health services to be offered at a single place and to have a place that incorporated different lighting and furniture tailored to each individual's unique needs when seeking mental health support. A place where people felt comfortable and welcome to come inside."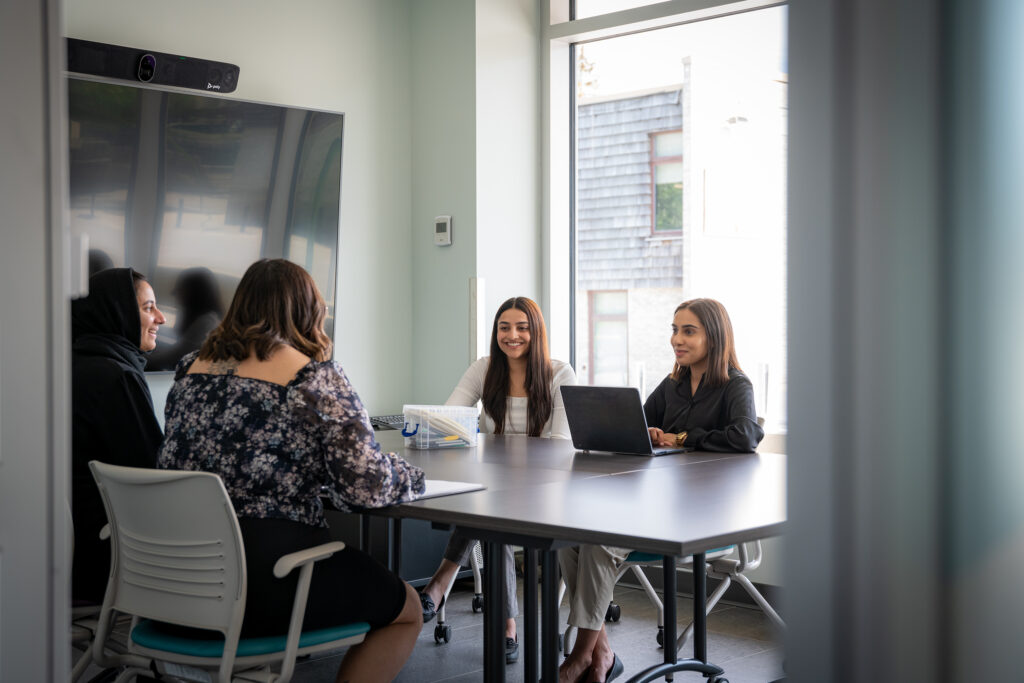 The Summit is all about youth helping other youth, but what isn't as immediately obvious as welcoming furniture and warm colours is the research taking place behind the scenes inside the centre.
MHR4K, a partnership between AHS and UCalgary, includes scientists from the Cumming School of Medicine (CSM), Alberta Children's Hospital Research Institute (ACHRI) and the Hotchkiss Brain Institute (HBI). Through MHR4K, every youth treated at The Summit also has an opportunity to improve the outcome for the next young person to walk in the front door, by telling researchers their personal story.
"One big component of the research program is that it includes the perspective of the people we are trying to research," says Dr. Whitney Hindmarch, PhD'17, research project manager for MHR4K. "A key thing we're trying to support at The Summit is that everybody has that opportunity to be part of that change and lend their voice to be part of that change. Through The Summit, we ask everybody if they are interested in participating in research."
Treatment at The Summit is no different for those youth and families who volunteer to take part, sharing their background and experiences with MHR4K, and those young people who'd prefer not to.
The Summit offers no-cost therapy sessions for children, youth and families through Owerko Family Walk-In Services; while Tallman Family Treatment Services helps young people manage acute escalating symptoms, away from a typical hospital setting.
The Summit also houses the Ptarmigan Day Hospital, the city's first pediatric mental health day hospital that helps youth transition from around-the-clock inpatient care to daily intensive therapy in the community.
For the young people who agree to share their journey through MHR4K, their personal experience prior to care, as well as during and after, becomes vital data for researchers working at The Summit and UCalgary, and ultimately helps improve mental health care for all youth.
"From a research perspective, there is still a lot to learn about how young people progress through the mental-health system and how their symptoms change over time to become more specific to a certain disorder," says Hindmarch. "This helps us understand things like treatment responses we can expect based on a certain presentation of symptoms, and where they might end up, so clinicians can provide evidence-based interventions earlier."
Some of that direct research, supported by the Alberta Children's Hospital Foundation is already making a difference for young people dealing with anxiety, depression and other common mental health challenges.
Here are just a few examples:
Genetic Risk Factor for OCD, a study which has linked a specific gene known as PTPRD to the traits of obsessive-compulsive disorder, which impacts up to two per cent of people, and which starts in childhood for up to 50 per cent of patients. The genetic breakthrough, co-led by psychiatry professor Dr. Paul Arnold, MD, PhD, director of HBI's Mathison Centre, was the result of more than 5,000 kids answering questions on OCD traits and giving researchers a sample of saliva.
Mental Health and Mindfulness, co-authored by Dr. Daniel Kopala-Sibley, PhD, focused on questionnaires about mental health, mindfulness and the Big Five personality traits (extraversion, agreeableness, openness, conscientiousness and neuroticism) from 131 adolescents who had a parent with a history of mood or anxiety disorders. The study found that a higher degree of mindfulness — a dispositional trait that can be defined as, "non-judgmental awareness and openness," is connected to fewer mental health problems in teens, independent of Big Five personality traits.
Suicidality in Children and Youth with Autism is a study that determined there is no valid, reliable or commonly used tool to assess suicidality in children and youth with autism. Dr. Carly McMorris, BA'06, PhD, and a team from the Werklund School of Education, found that common tools used to measure suicidality in youth weren't valid for those with autism, and their research is now focused on developing tools to fill that gap.
With the March 13 opening of the $39-million facility, The Summit is equipped to conduct research in real time, gathering immediate feedback and data from youth using the state-of-the-art clinic.
The Summit's researchers are already deep into new discoveries under the leadership of Arnold along with Dr. Susan Graham, PhD, director of the Owerko Centre in ACHRI.
Some of the "lighthouse" projects (small-scale research with big future potential) being considered for scaling up through The Summit include Facing Your Fears, an adapted cognitive behavioural therapy program led by McMorris, which addresses anxiety in children and adolescents with autism and ADHD.
Pharmacogenetic-Supported Prescribing of Medications for Kids is a project led by Dr. Chad Bousman, PhD, focused on tailoring drug therapies for mental health based on a youth's genetic profile.
And Dr. Kara Murias, MD, PhD, and her team are investigating the effects of Repetitive Transcranial Magnetic Stimulation on the part of the brain which governs attention, as an unconventional form of treatment for children with ADHD.
Hindmarch says it's the close working relationship between clinical and research teams that sets The Summit apart.
"From a research perspective, one thing that really excites me is the level of integration with health care," says Hindmarch. "I think, historically, research was siloed from clinical care and it was difficult to get the data we need in order to move research forward, and to implement that learning back into the health-care setting. I think an opportunity where research has a space, a presence, and daily interaction with the clinical population and care providers is huge. Our ability to be here and work together — I just feel fortunate to be here for that."
For a veteran of mental-health care like Patel, who is now a research assistant in the CSM, The Summit is a chance to offer child- and youth-centric treatment using leading-edge research.
Patel's journey to overcoming anxiety led her to volunteer at hospitals, greeting and helping patients in the emergency room. She saw first-hand the grim surroundings youth can face when presenting with mental health symptoms at traditional hospitals.
"It can be a very jail-like setting for youth accessing adult services — there's a door, a window, a small little bed and a camera watching over you," she recalls. "It was a very dull and an unwelcoming environment, and that really motivated me to speak up and do something about that."
For an estimated 8,000 young people a year, The Summit will be a place to find answers, healing and a fresh start, all while improving mental health treatment for the next person who walks through the front door.
Most of all, The Summit will feel like a place where they belong.