Written by Jacquie Moore, BA'97
The vocabulary of cybercrime — from the dark web to ransomware — can sound like a plot point in a sci-fi blockbuster.
The insidious reality, however, is that the use of computers and computer networks for fraud, theft, child pornography, phishing, etc. is on the rise, with increasingly devastating consequences to organizations from grocery stores to government, and to all of us as individuals. Statistics Canada recently reported that, in Alberta alone, the number of police-reported cybercrime incidences has nearly doubled since 2017.
To compound the issue, these kinds of crimes are exceptionally difficult to police and prosecute; digital evidence is tough to gather, and often doesn't stand up in court. For police, getting ahead of cyberattacks, like the one that nearly brought Indigo to its knees last winter, is a complex, sometimes impossible task.
A new initiative at the University of Calgary has the potential to change the game for cybercrime and cybercrime-detectives here and around the world.
"Cybersecurity is of critical importance to Canada, and we are innovating rapidly to keep pace with the growing demands and necessities of our increasingly online lives," says Dr. Ken Barker, BSc'82, MSc'84, PhD, a professor in the Faculty of Science's, Department of Computer Science. He leads the university's cybersecurity hub, the Canadian Assessment Training and Experimentation Centre (CATE).
---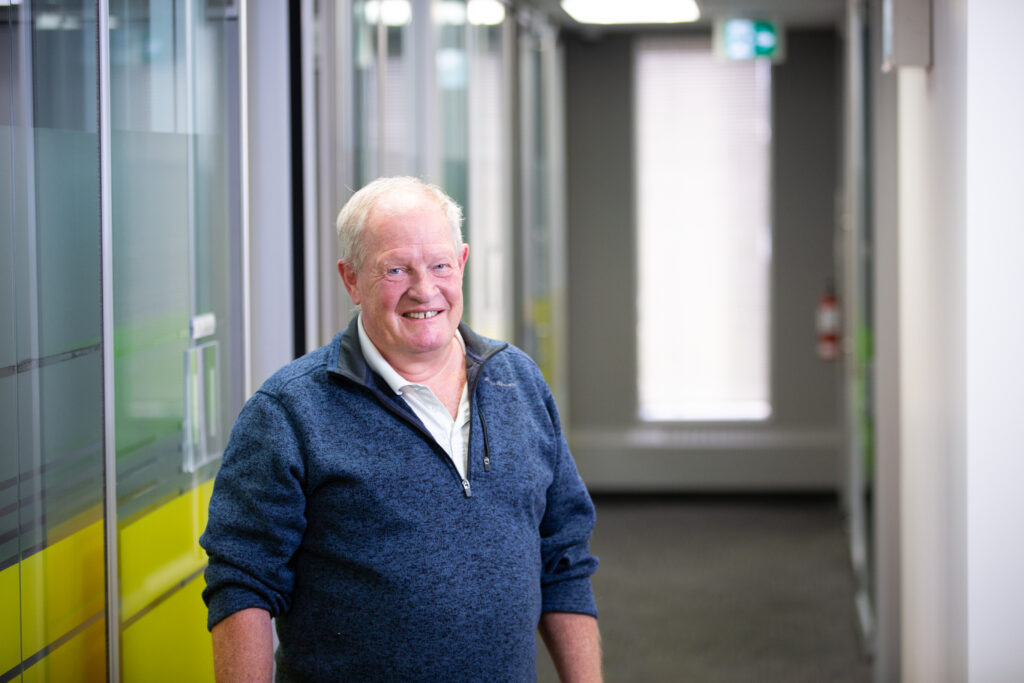 Dr. Ken Barker, PhD in the hallway of CATE where breakout rooms are set up for teams to compete against each other in cyberthreat scenarios as a way to train them for real-world circumstances. The Centre can test the systems of current companies and be turned into a security operation hub. Photograph by Riley Brant.
---
Established in April 2022, CATE serves to help students learn to mitigate cyberattacks. The Centre has labs and classrooms designed to emulate complex, real-world digital scenarios and enterprises. Students can build cybersecurity skills by experimenting in an online world outside of the core university system, but which nonetheless mimics the real thing.
For instance, in the CATE environment, students can learn how computer viruses work or, says Barker, "simulate part of a pipeline and put a device in the loop to test how safe and effective an invention is." It's a crucial component of student learning and expertise in cryptography, computer science, and the legal, ethical and social issues of cybersecurity — it's unique innovation that has recently drawn interest from outside the university.
Earlier this year, Barker was approached by the Calgary Police Service (CPS), which sees advantages in leveraging CATE's sophisticated system to target cybercriminals. "The police had been looking for a way to address a cybersecurity issue and they saw that the Centre might be helpful," Barker says.
Just as with "in-person" crimes, detectives often need to gain the trust of a criminal to gain access to information. "A police officer might talk to someone at a biker bar to eventually learn who the crime boss is," Barker says. "In the same way, a detective needs to gain the trust of a cybercriminal and slowly collect evidence."
---
Herbert Fensury is the CEO and Founder of ENFOCOM CYBER, a Calgary company partnering with UCalgary on CATE. The Centre is designed to bring the skills and interests of academia, government or public interests and private business together. Photograph by Riley Brant.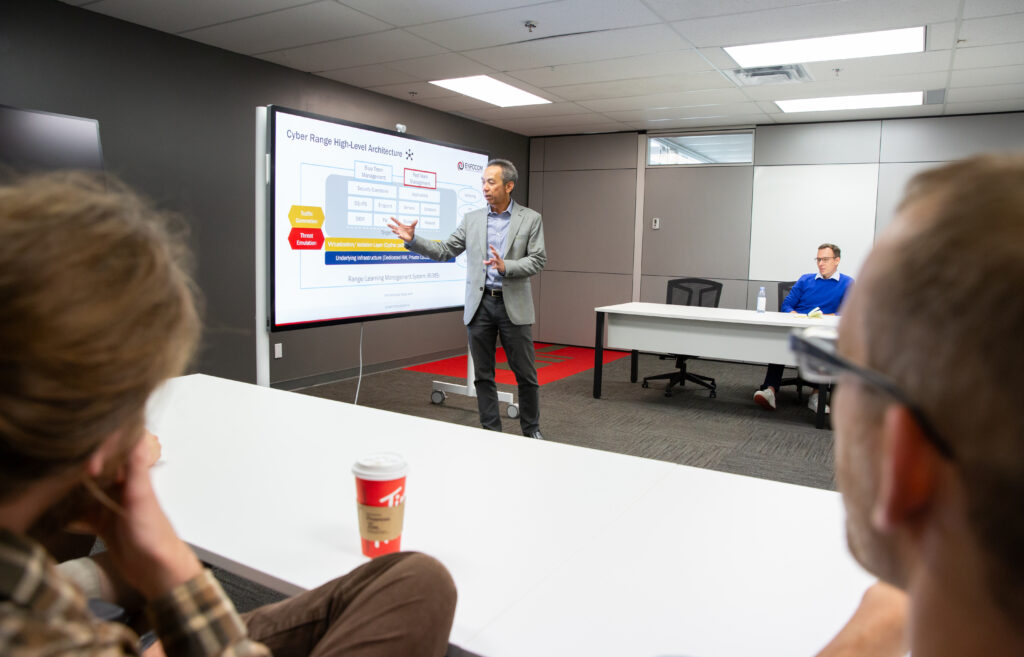 ---
Working in partnership with CPS, Barker and his team at CATE are exploring tools needed to make such a system operational for detectives in the future. The system offers a safe workspace for the invention of innovations that will empower cybercrime detectives to target criminals more effectively — or, as Barker more colourfully puts it: "We're trying to create the technology to allow a working detective to use it out in the wild."
A founding partner of a national network of universities (the National Cybersecurity Consortium) working to elevate research and develop cybersecurity talent, UCalgary is at the vanguard of discovering global solutions to cybercrime.
"We are short of cybersecurity expertise in the province, the country and the world," says Barker. "We're innovating rapidly to keep pace with the growing demands and necessities of our increasingly online lives."