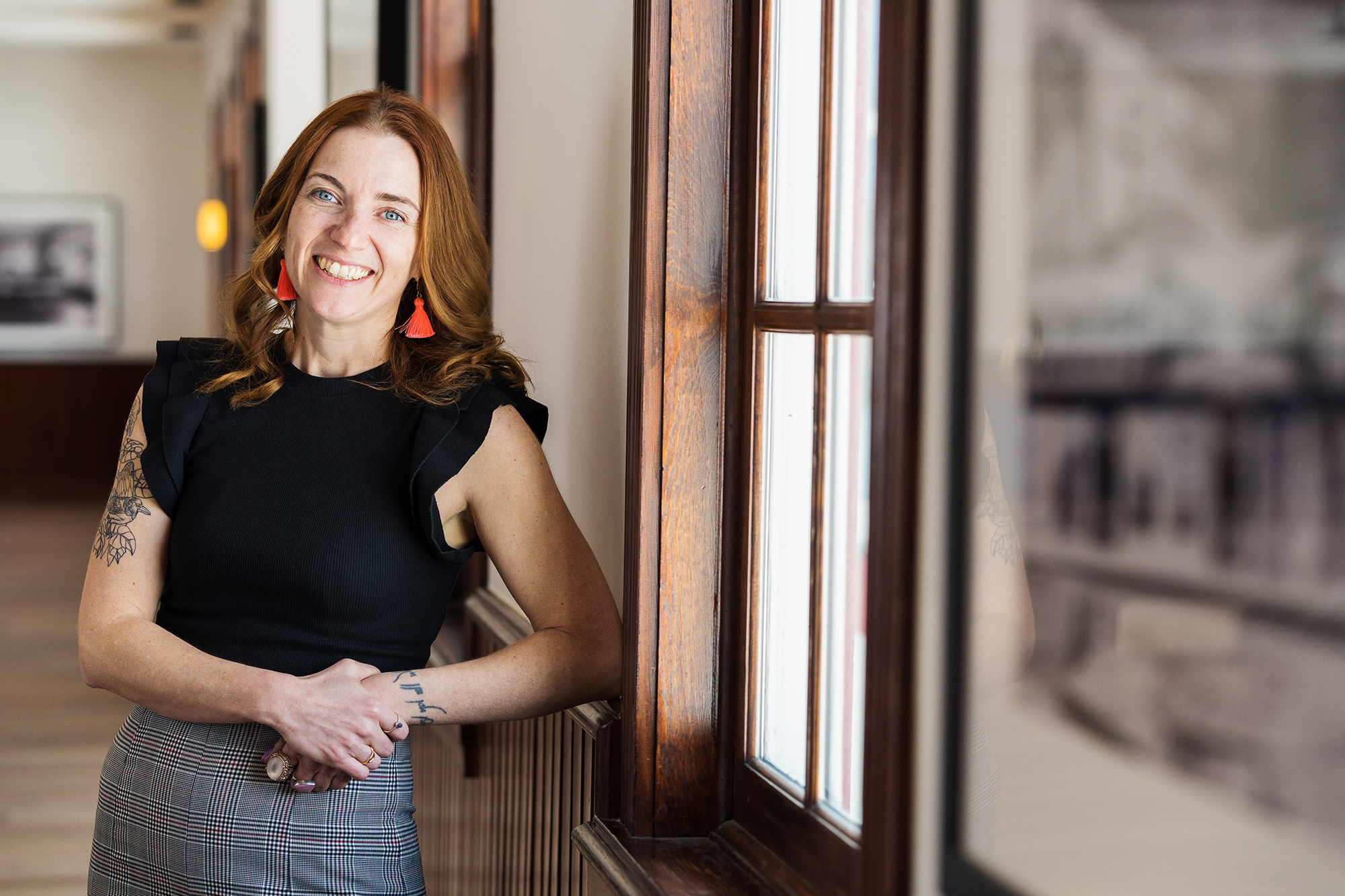 Written by Jaelyn Molyneux, BA'05
Jennifer Thompson hears the word "potential" a lot when she speaks to people about Fort Calgary. She sees it and she gets it, maybe more than most. Better yet, she has the skills and experience to tap into that potential.
In February 2023, Thompson, MBA'18, became president of Fort Calgary, hot off more than a decade in the Arts & Culture division at The City of Calgary where she led the restructuring of Calgary's Public Art Program. Thompson pays particular attention to anti-racism and inclusivity as she clears the way to allow artists to create and tell their stories.

At the City, she broke down barriers. Thompson jostled stale systems into new approaches and made room for more representation that better reflects Calgary's population. Now, Thompson is poised to do the same at a landmark location that is smack in the middle of the city. Fort Calgary has a lot of history to unpack and fresh stories to tell.

As Thompson heads into her new role, here are some of the experiences and approaches she is taking with her as she develops the historic site into an even bigger cultural destination.
Look at what is missing
Sometimes, it comes down to a mathematical observation. A casual (or even comprehensive) inventory of public art in Calgary shows not much of it is created by Indigenous artists, women or newcomers — all of whom make up a significant portion of, well, the public.

"Public art should be a reflection of the city and we really weren't seeing that," says Thompson. While she was at the City, Thompson was part of launching the Indigenous Public Art program. She also helped direct Tomorrow's Chinatown, a community-informed, multi-project initiative to support that culturally rich neighbourhood. The Northeast Public Art Initiative also got its start with heavy community engagement and an all-BIPOC jury.

Now, as she takes over the lead of Fort Calgary, Thompson is focusing on expanding the perspective of its storytelling. The site has thousands of years of continued Indigenous history, as well as the 39 during which the North-West Mounted Police established itself there. "That's a lot of layers of time we need to unpack, and an overwhelming majority of them are from the time that just Indigenous people, particularly Blackfoot, were living on this land," says Thompson.

Just as she did at the City, Thompson has started her work at Fort Calgary by reaching out to under-represented groups and asking them what they would like to see.
Think of arts and culture as a business proposition
Just as Thompson completed her Master of Business Administration at UCalgary's Haskayne School of Business, public art in Calgary was at a tipping point. There was a growing consensus that the output from the public art program didn't connect with the community as well as it could. The system needed a full review and Thompson was ready to dig in. She approached it as if it was a business problem. "I looked at it pragmatically," says Thompson. What is the mandate? What is the value proposition? How does it fit into the line of service? The new perspective enabled the public to buy into it and allowed the artists to be artists and tell their story.

"I wanted the space for the artists to hold the emotion and work on the art," she says. "The rest can be left to the public servants." Thompson says she hopes to do the same at Fort Calgary.
Make it accessible and it will make an impact
Sometimes an artist or cultural experience is planned and sometimes it's a random collision. Either way, it can make an impression. The potential for that moment is what Thompson wants to continue to create in Calgary.

"Everyone should have access to artistic expression and storytelling," says Thompson. "Whether you are a kid or an adult, it's important to be able to take a moment out of your own life and happen upon art in a public space where you are free to make up your mind about it. That experience will stick with you forever and could even change your life."

Thompson sees Fort Calgary as a hub for those types of experiences.
It's all about location — and finding inspiration in other, similar locations
Central Park is a sanctuary in the middle of New York City filled with nature, as well as activity. Similar to Fort Calgary, The Forks in Winnipeg is an important Indigenous location at the confluence of two rivers; it was revived in the 1990s to become a major year-round destination. Wanuskewin Heritage Park north of Saskatoon honours Indigenous history at its beautiful site-specific interpretive centre; it's on its way to becoming a UNESCO World Heritage Site. These are some of the places Thompson has on her vision board for Fort Calgary. "Those are a bit of a blueprint for us. They aren't perfect, but they are certainly a jumping-off point for us to aspire to," she says.