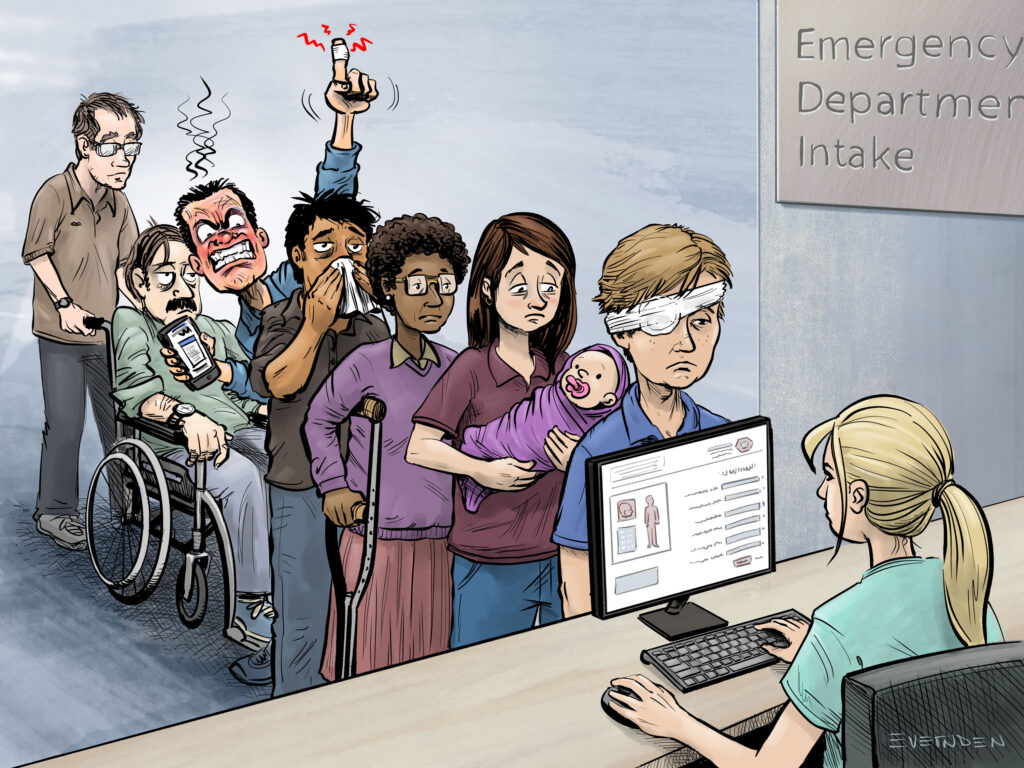 Written by Jacquie Moore, BA'97
Perhaps you're a rare bird who has never in your life approached a flight attendant, restaurant manager or cashier with a complaint about the service you had (or hadn't) received. If so, well, you're either absurdly lucky or exceptionally non-confrontational.
On the other end of the branch is the rare bird who routinely takes any opportunity to aggressively, even threateningly, complain about every petty or perceived problem, all the way up to the highest level of leadership — a subset of people that, says Dr. Amie Liddle, PhD, of the University of Calgary's Faculty of Nursing, "is seeking attention more than a solution to their complaint."
When it comes to health care, that small, but mighty group of quarrelsome complainers can obstruct care, cause undue stress to frontline workers, and exploit an enormous amount of valuable time and resources. An assessment tool out of UCalgary Nursing aims to help health-care professionals (and others) pre-identify potentially querulous behaviour from escalating into a major economic and energetic disruptor.
Liddle, MN'05, PhD'20, is an adjunct clinical associate in the faculty and one of the country's leading experts in complaints management. She recently partnered with Innovate Calgary to develop a strategy — Querulous Complaint Assessment Instrument and Process (QCAIP) — that helps health-care professionals recognize patterns of complaint behaviour and respond to it in an expedited and fair manner.
"There will always be pockets of people whose complaint behaviour does not fit the standard complaint process," says Liddle. For instance, a never-satisfied individual who threatens to take a complaint public by posting it online or alerting the media requires a different approach than an individual with a legitimate complaint who wants to keep it private.
"These people cause distress and negatively impact the system by seeking more and more attention from increasingly higher levels of management," says Liddle. In health care, where every comment, complaint and action is legislated, frontline staff often don't have tools or agency to nimbly deal with such demanding behaviour. Liddle's assessment strategy offers a clear boundary to nurses, doctors, unit clerks, etc., by teaching them to recognize when they're facing a behaviour pattern that falls outside the usual process; the tool measures the type of complaint via 20 questions about the behaviour of the complainer.
"We need to support our people working in health care," says Liddle. "Yes, everyone has the right to complain, but when one person blindsides staff by being offensive or seeking revenge, that's atypical and health-care professionals need to be able to recognize that and deal with that person quickly and in a fair manner." The staff member learns to distinguish different kinds of behaviour and can make a clear decision about how far up the line the complaint should go, and who the individual should be guided to next.
So far, the QCAIP tool has been piloted at four Alberta hospitals and has been proven to address the misuse of organizational resources. It offers a consistent and fair process and reduces abusive behaviour towards staff. That's a win-win for both the health-care system and for the unhappy individual.
"People accessing the health-care system may be going though the worst times of their life," says Liddle. In health care, compassion rules, but clear boundaries ensure safety, well-being and more-effective solutions all around.