Written by Chantelle Sonnleitner
The archival collection at the University of Calgary takes up 12 kilometres of shelf space. It's the second-largest university archives in Canada after the University of Toronto. In the collection, there are just over 5 km of records that were relocated from the Glenbow Library and Archives starting in March 2019 and leading up to the opening of the Glenbow Western Research Centre at the Taylor Family Digital Library. Found within the University of Calgary Archives which includes the Glenbow Archives is a collection protecting the history of a very important yearly rodeo, exhibition and festival – the Calgary Exhibition & Stampede.
"This collection encompasses such a large snapshot and breadth of what the Stampede was and how it has changed over the years," says Kim Geraldi, BA'14, Southern Alberta history archivist with UCalgary Libraries and Cultural Resources. "We get all kinds of researchers coming here to explore this rich history. There are a lot of requests for these materials leading up to the Stampede every year."
The Stampede collection includes thousands of digital photographs and hundreds of posters, as well as numerous letters, invitations, ticket stubs and newspaper clippings. Here are just some of the interesting finds in the collection.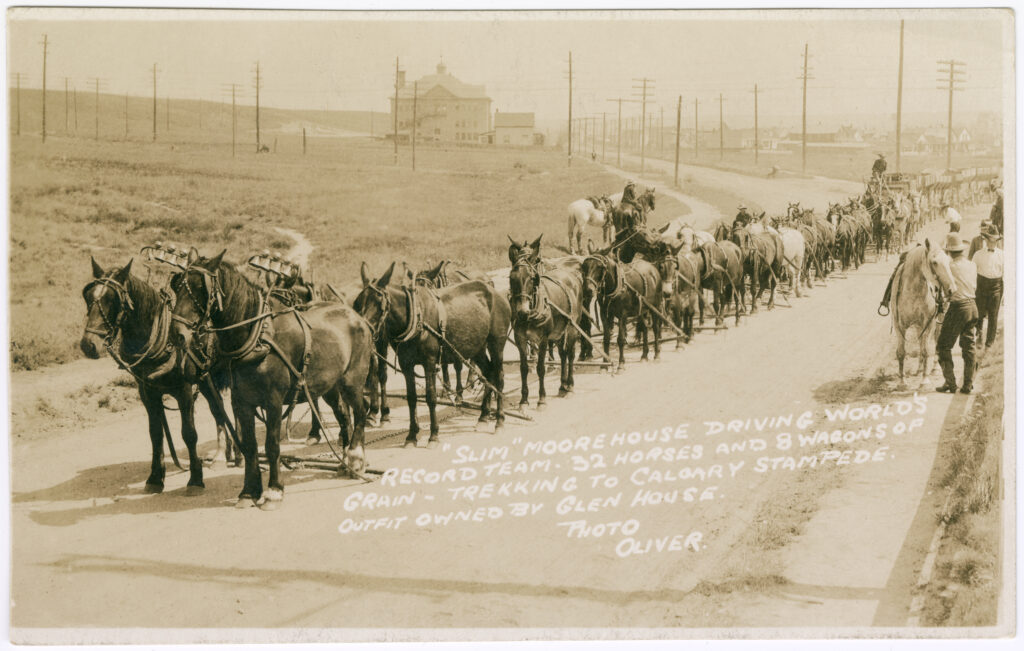 Date Unknown. "Slim" Moorehouse driving World's Record Team. 32 horses and 8 wagons of grain – trekking to the Calgary Stampede. Outfit owned by Glen House. Photo credit "Oliver." Ramsay School pictured in the background. po-stampede-1-9
---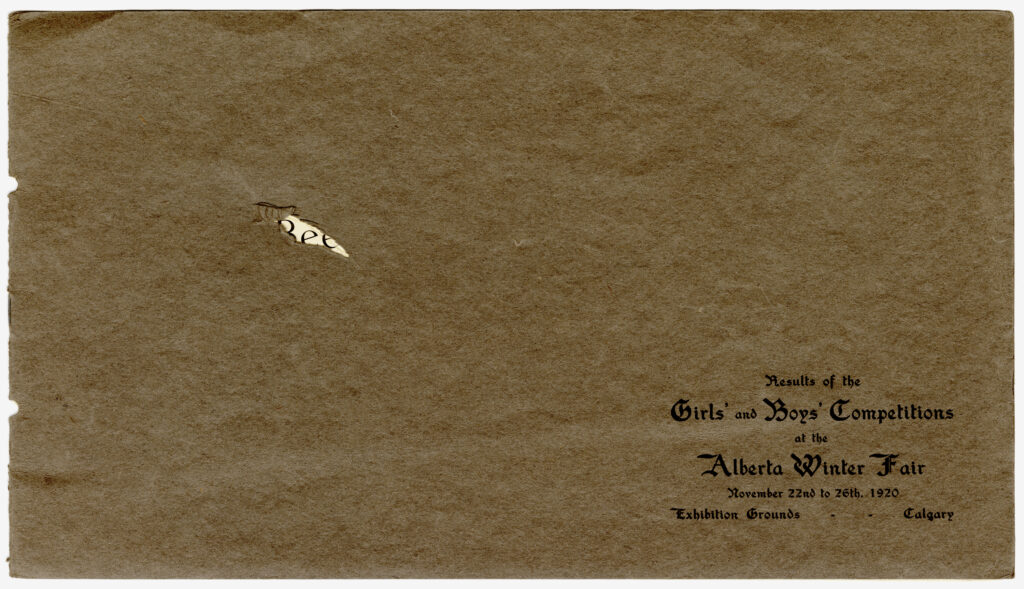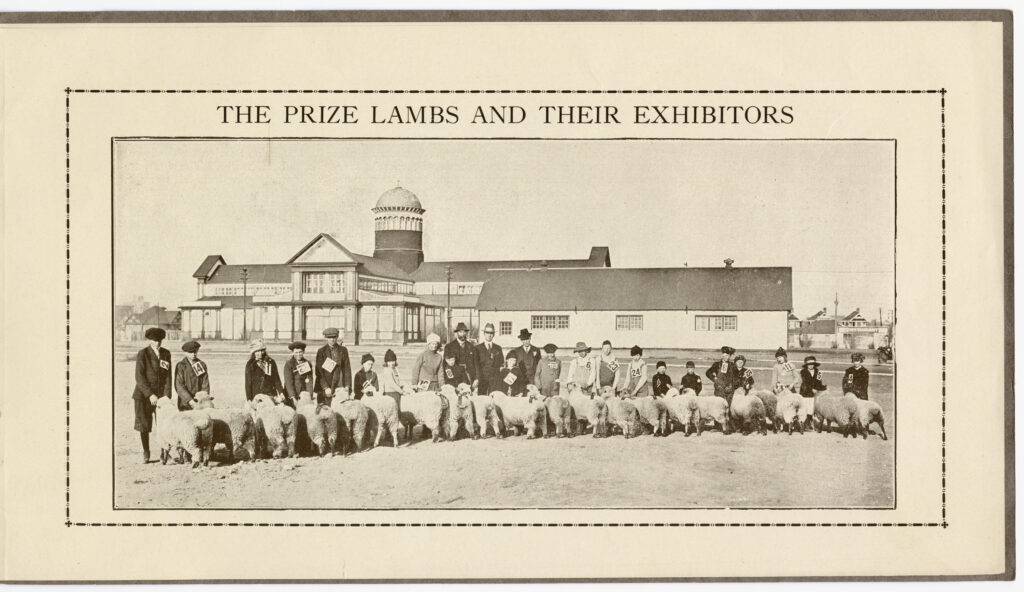 Date 1920. Results of the Girls' and Boys' Competitions at the Alberta Winter Fair November 22 to 26 1920, held at the Exhibition Grounds. Photo of the prize lambs and their exhibitors. m-2160-35d-1 and m-2160-35d-2
---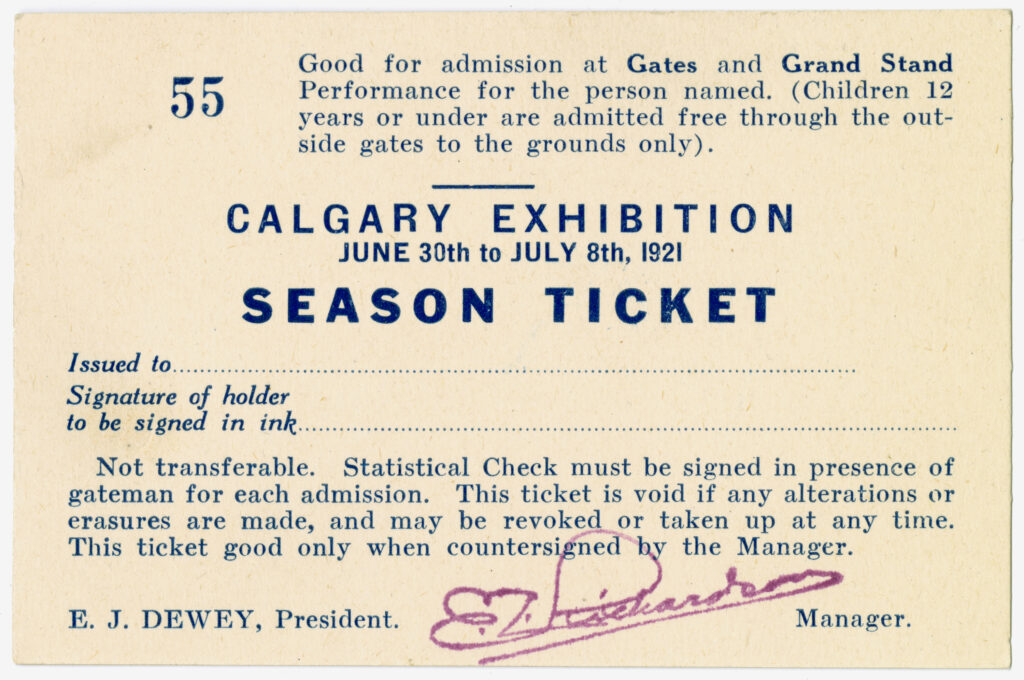 Date 1921. Calgary Exhibition season ticket (June 30 to July 8, 1921). m-2160-file-36a-1
---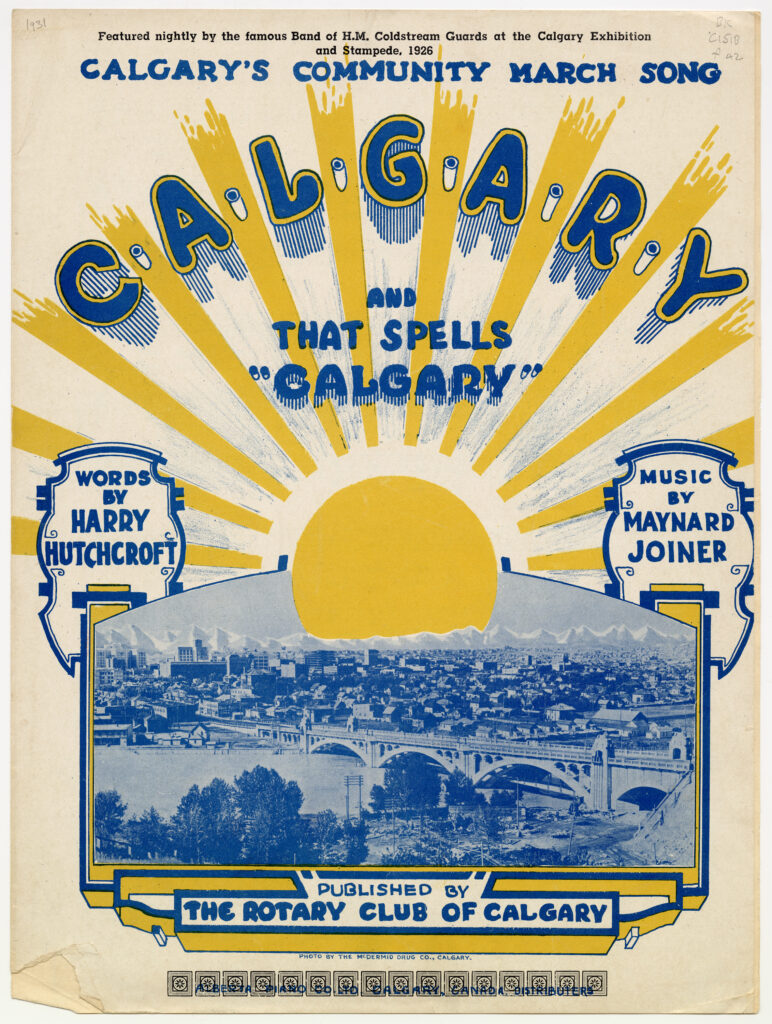 Date 1926. Sheet Music to Calgary's Community March Song: C-A-L-G-A-R-Y and That Spells "Calgary". Published by the Rotary Club of Calgary. Words by Harry Hutchcroft, music by Maynard Joiner.
---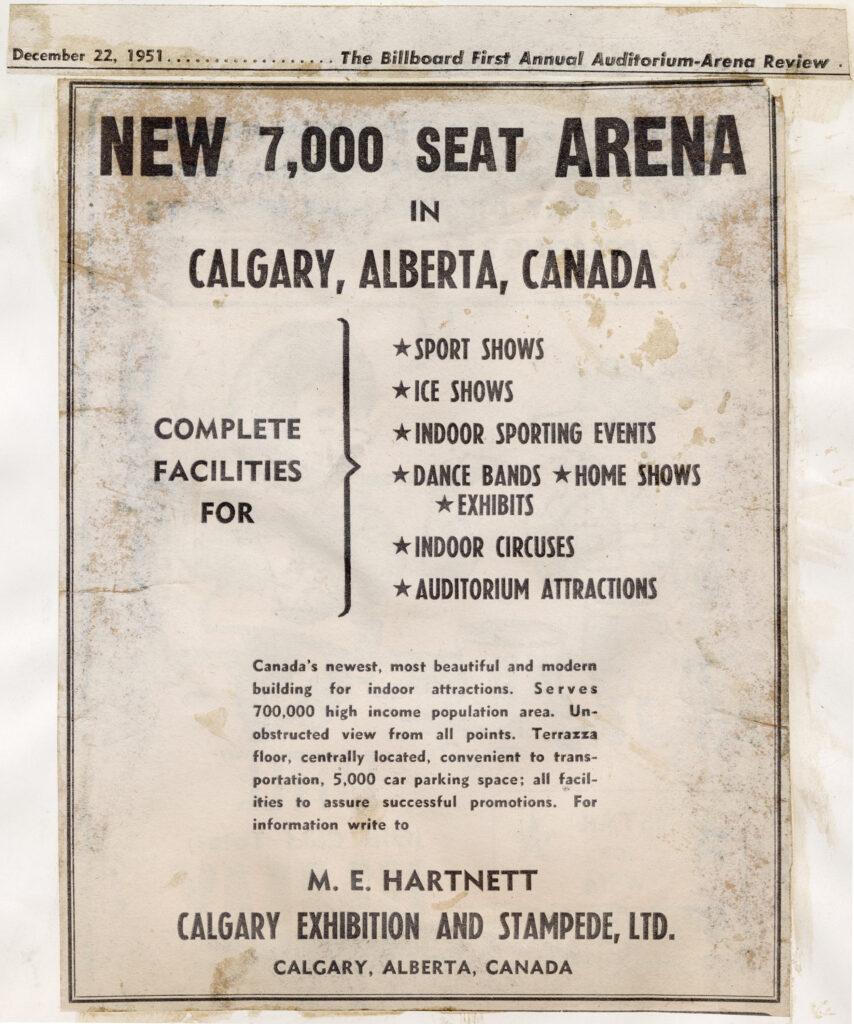 Date 1951. Calgary Herald newspaper clipping dated Dec. 22, 1951, for "New 7,000 seat Arena in Calgary." m-2160-243-pg-10
---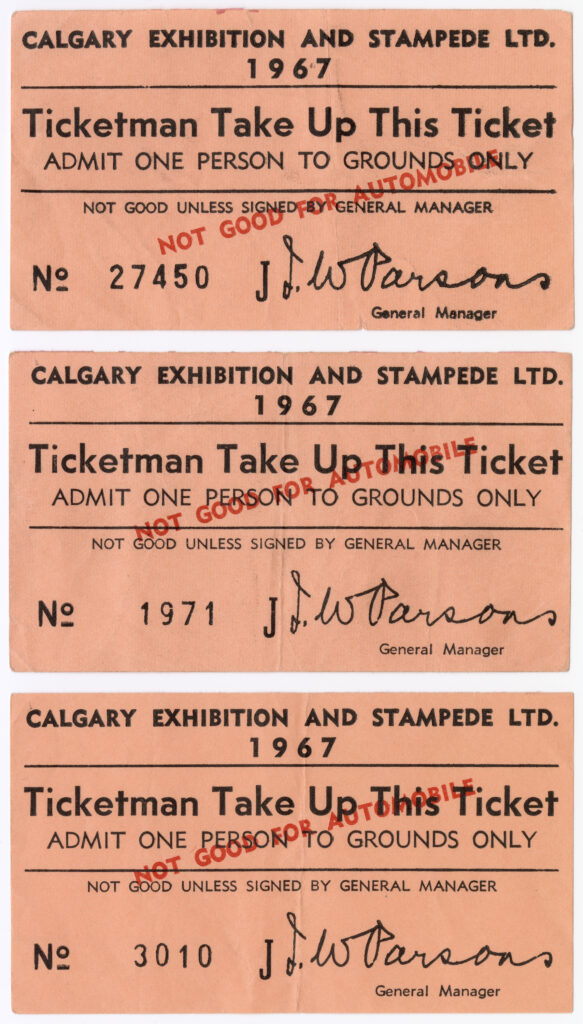 Date 1967. Calgary Exhibition and Stampede Ltd. 1967 admission ticket. m-2160-file-35k-1
---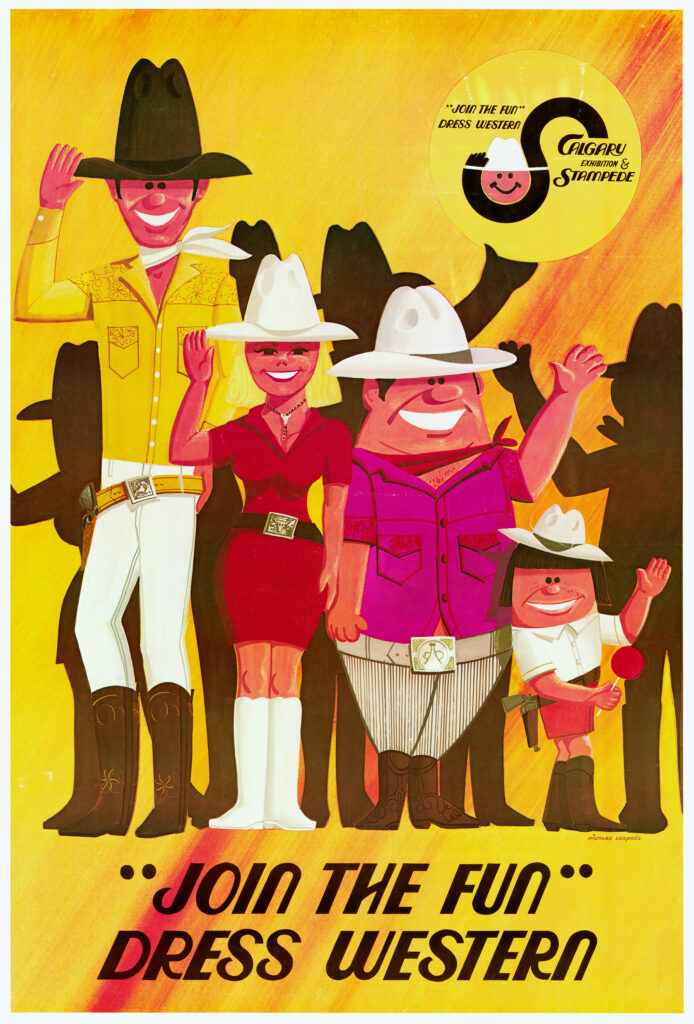 Date 197-. Calgary Exhibition & Stampede "Join the Fun" dress western poster. m-2160-256-1
---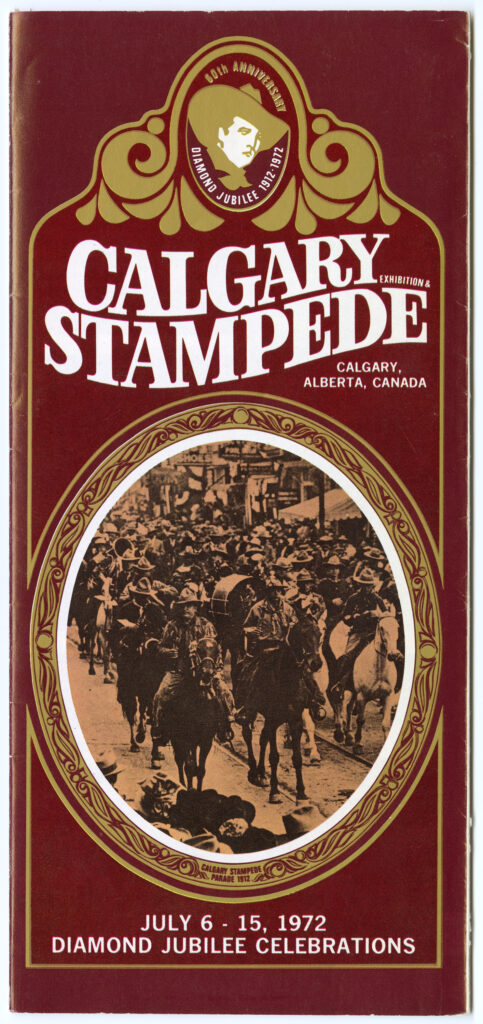 Date 1972. Promotional brochure for Stampede's Diamond Jubilee, July 6-15, 1972. Gate admission that year was adults, $1, children 12 & under, 50 cents.
---
All images from the Glenbow Archives at the University of Calgary Libraries and Cultural Resources.